Understanding Relationships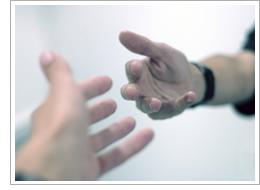 Finding our way through the complexities of a relationship, can feel like walking through a minefield. We often imagine that we should be able to establish a rich and satisfying relationship with someone we love, even if we have never learned to relate to ourselves in a rich and satisfying way. We believe that a successful relationship mostly depends on finding the right person and feeling or doing the right things. We often can't see that how we relate to another inevitably follows from how we relate to ourselves; that we can only be as open with another as we are with ourselves.
Sooner or later, when a relationship starts to feel more like work than fun, we begin to question if we are on the right track. Why keep going when the initial excitement fades or when we keep hurting each other? We fear when intimacy with another exposes parts of ourselves we would rather keep hidden or we start to doubt whether we can live with another person or to love anybody at all on a daily basis.
Relationship and couples counselling with Maggie Heap allows you to explore these questions and many more. By deepening your understanding of yourself and the ways in which you attach to others, you will learn to form more meaningful and satisfying relationships. Through discovering why your buttons get pressed by certain behaviours and emotional responses in others, you will find more constructive ways of relating. By challenging and changing negative self-images and beliefs you will find a more confident, enriched way of developing your rapport with others.